Same Day Dentistry by E4D in Kailua, HI
Conventional dentistry often takes two full appointments to restore a tooth, but with the advent of E4D Dentist System, Dr. Rosala can scan the tooth requiring a treatment, design the restoration virtually, and then send all the information to an in-office milling station to create it within minutes. There's no impression material to bite into, and you won't have to wear a temporary for weeks while you wait for a dental lab to complete your crown, veneer, or other restoration!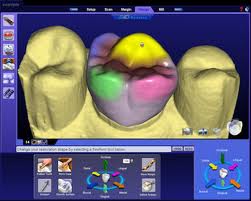 1. Dr. Rosala will remove decay from affected tooth.
2. He will shape and take a scan.
3. A 3D model of your tooth will appear on a computer screen, and you'll watch Dr. Rosala design your restoration. (See picture to the right.)
4. The in-office mill will create your restoration in under 20 minutes!
5. Dr. Rosala will check how the restoration looks and works with your bite, and then he'll put it into a ceramic oven.
6. He'll bond it to your tooth, and you'll be finished!
If you're interested in Same Day Dentistry, make an appointment with Dr. Rosala at the Kailua office: (808) 261-1968.