See More, Do More! Our Honolulu Dentist Uses CariVu to Protect Your Smile
Here at Hawaii Cosmetic Dental, our Honolulu dentist and his team pride ourselves in providing the latest and greatest products and services for each and every patient. We know how important your smile is, which is why we maintain continuing education, courses, and learn about what's new in the world of dentistry - to give you the best oral and dental health possible. In the dental field, the CariVu detection device allows us to provide a more accurate diagnosis of cavities, including the "in-between" teeth cavities which are more difficult to capture on a standard x-ray.
With their patented transillumination technology, CariVu identifies the caries (cavities) and cracks on the surface of your teeth, as well as the tougher areas to spot. Safe, near infrared light is used within the CariVu, giving Dr. Rosala an almost transparent view of your teeth to see any anomalies, abnormalities, and carious lesons. The image is similar, much like a standard x-ray, but uses no radiation, which is safer for every type of patient, including children and pregnant women.
Not only can CariVu get a better view of your teeth, and the hard-to-see places, but it can detect damaging cavities in their early stages, which means we can start treatment right away. With this tool, we'll protect your dental health and help keep your natural teeth as healthy and strong as possible as you age.
Don't hesitate to ask Dr. Rosala, your Honolulu dentist, about CariVu during your next visit to Hawaii Cosmetic Dental!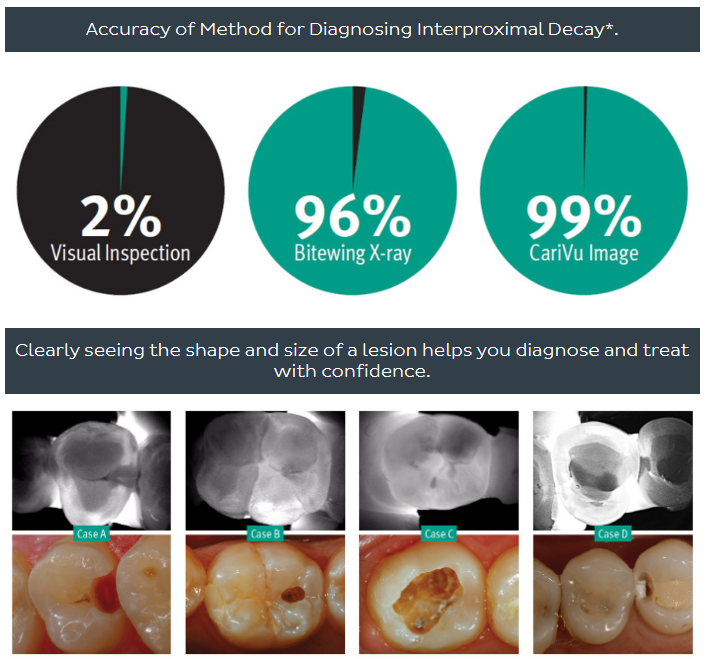 *Proximal dentin lesions represented in CariVu images correlate to the actual condition in the tooth with 99% accuracy. Study data on file. CariVu is a diagnostic aid for the detection of open or incipient carious lesions above the gingiva and for monitoring the progress of such lesions. Indications for use for CariVu are detection of: smooth surface caries, occlusal carries, proximal caries, initial caries, secondary caries, and cracks.
THIS IMAGE IS PROVIDED BY DEXIS CARIVU - KAVO DENTAL EXCELLENCE.